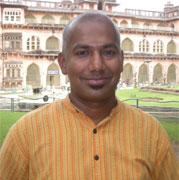 MANUTATTWA
Corporate Yoga Specialist
Biography:
Corporate Yoga Specialist
QCI-Certified AYUSH-Registered LEVEL-2 Yoga Professional – Registry No: QCI0001055.
Manutattwa / Mohana Ramana had his initial training in yoga & vedanta from Forest Yoga Vedanta Academy of Divine Life Society, Himalayas, Rishikesh.
He is a dynamic "Yoga Pravartaka" having done his YTTC from Atmadarshan Yogashram, Southern branch of Bihar School of Yoga and he teaches in Satyananda Yoga tradition.
He has taught yoga in the following corporate offices;
TechMahindra
Alstom
Kaya Skin Clinic
WizCraft
Cleartrip
Airwana Networks
Mantri Elegance
Omega Healthcare
KVO Jain Samaj
Sarvahita Ayurvedalaya
Dr. Anand Murthy K V Ortho Clinic
AIG